West facing main terrace at sunset overlooking the Malgrat islands .
Screen wall on North side extends into inifnity pool to create complete privacy.
West elevation across the infinity swimming pool showing the double height living space with two large sliding doors and a screen of red fins at the south side of the terrace.
The entrance gates in translucent glass and SKYHIGH name in clear glass.
Entrance gates at sunset.
The street level roof space is used for parking . The concrete has a polished finish and is divided into large panels. The perimeter upstand is topped with a glass balustrade.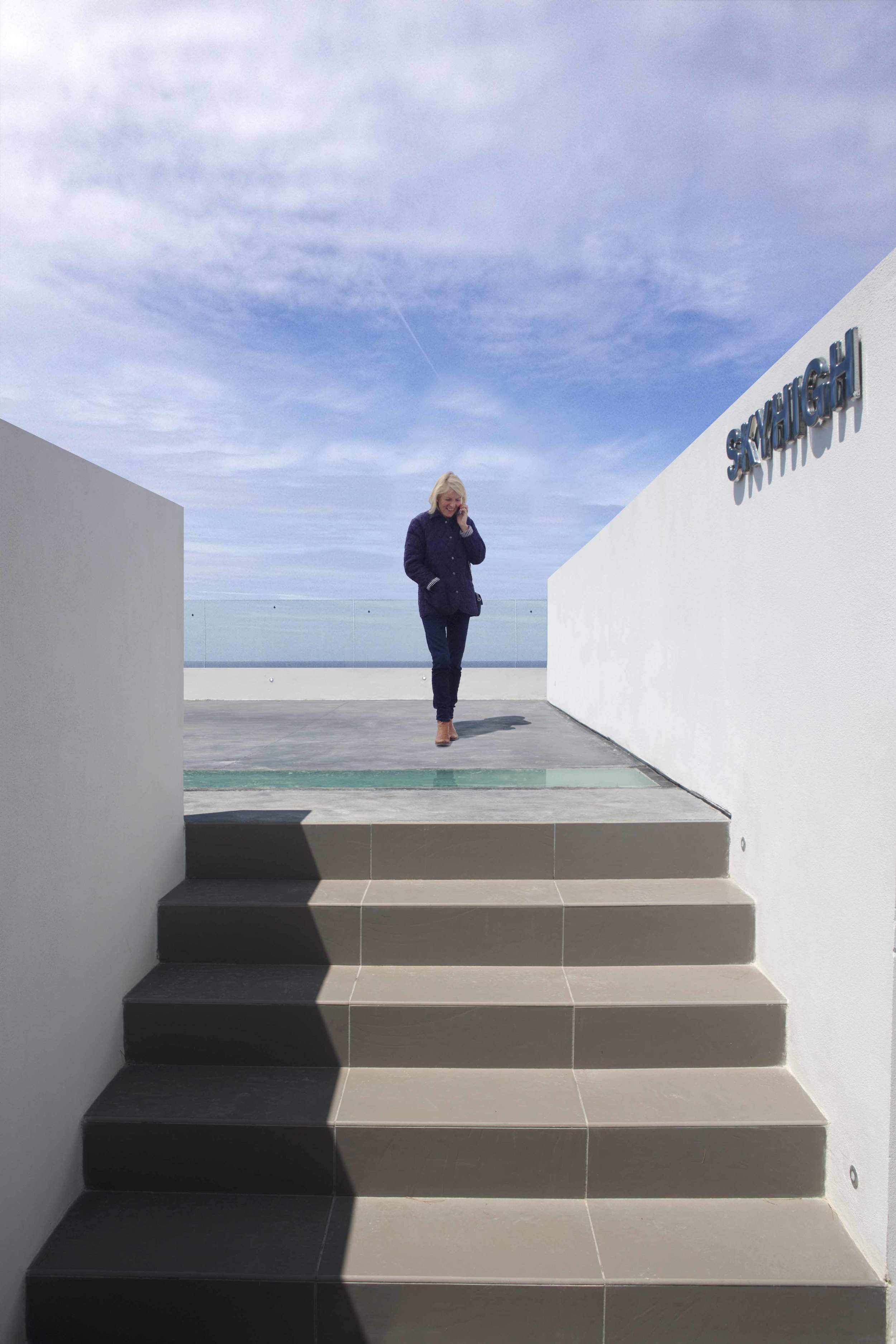 Diane Phillips at the entrance steps where SKYHIGH is written along the wall in chrome letters.
Niche for sculpture at the side of the main entrance door.
The main entrance is set below street level , beneath a curved roof canopy .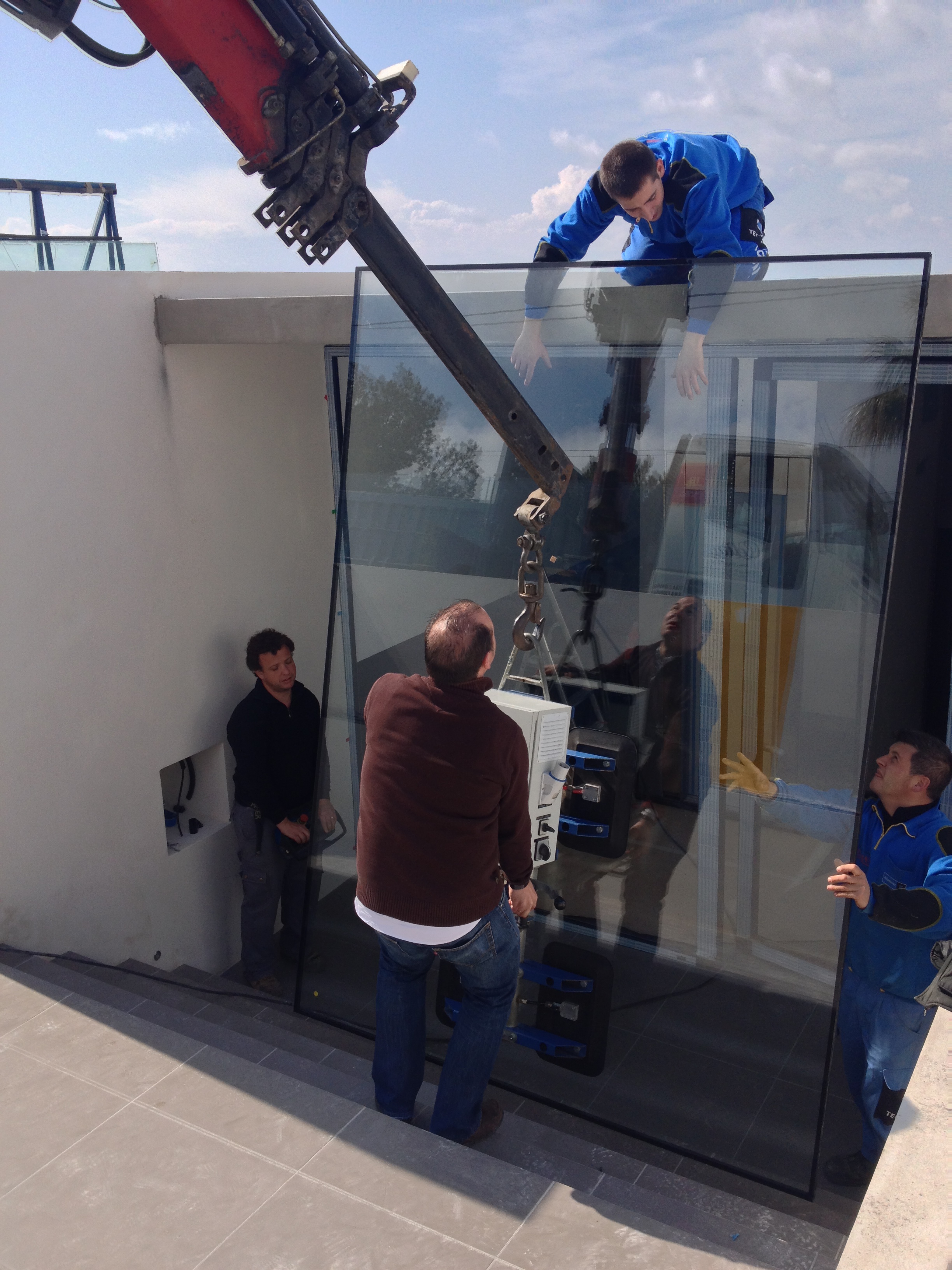 Placing the large double glazed panel at the main entrance.
Evening view from entrance level.
Building the reinforced concrete structure after the excavation of four storeys of rock.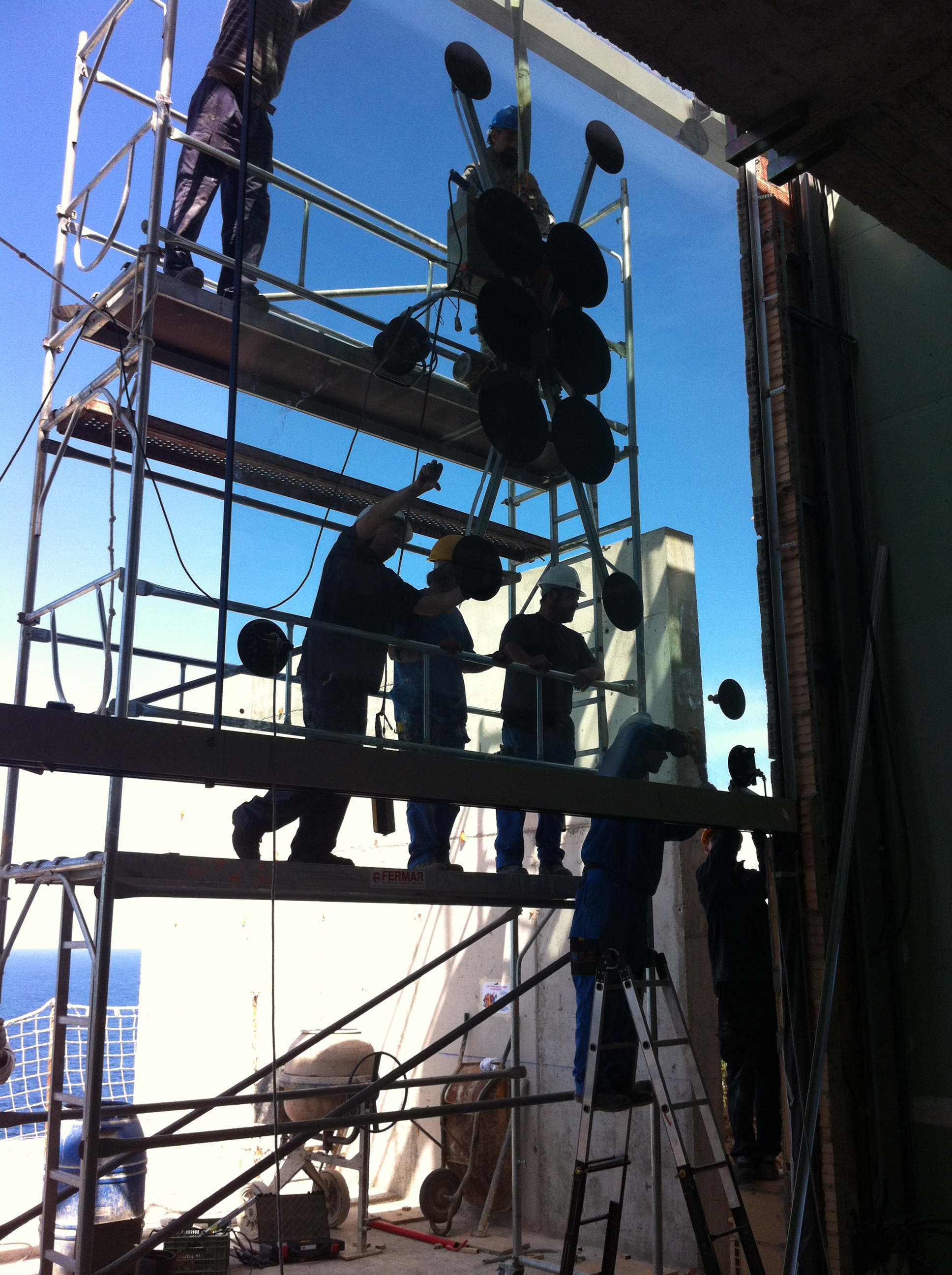 Installing the huge 4.4m x 3.2m double glazed units to the main facade
Installing the single piece 6.5 m square electric roller shutter that protects the main facade from sun and wind .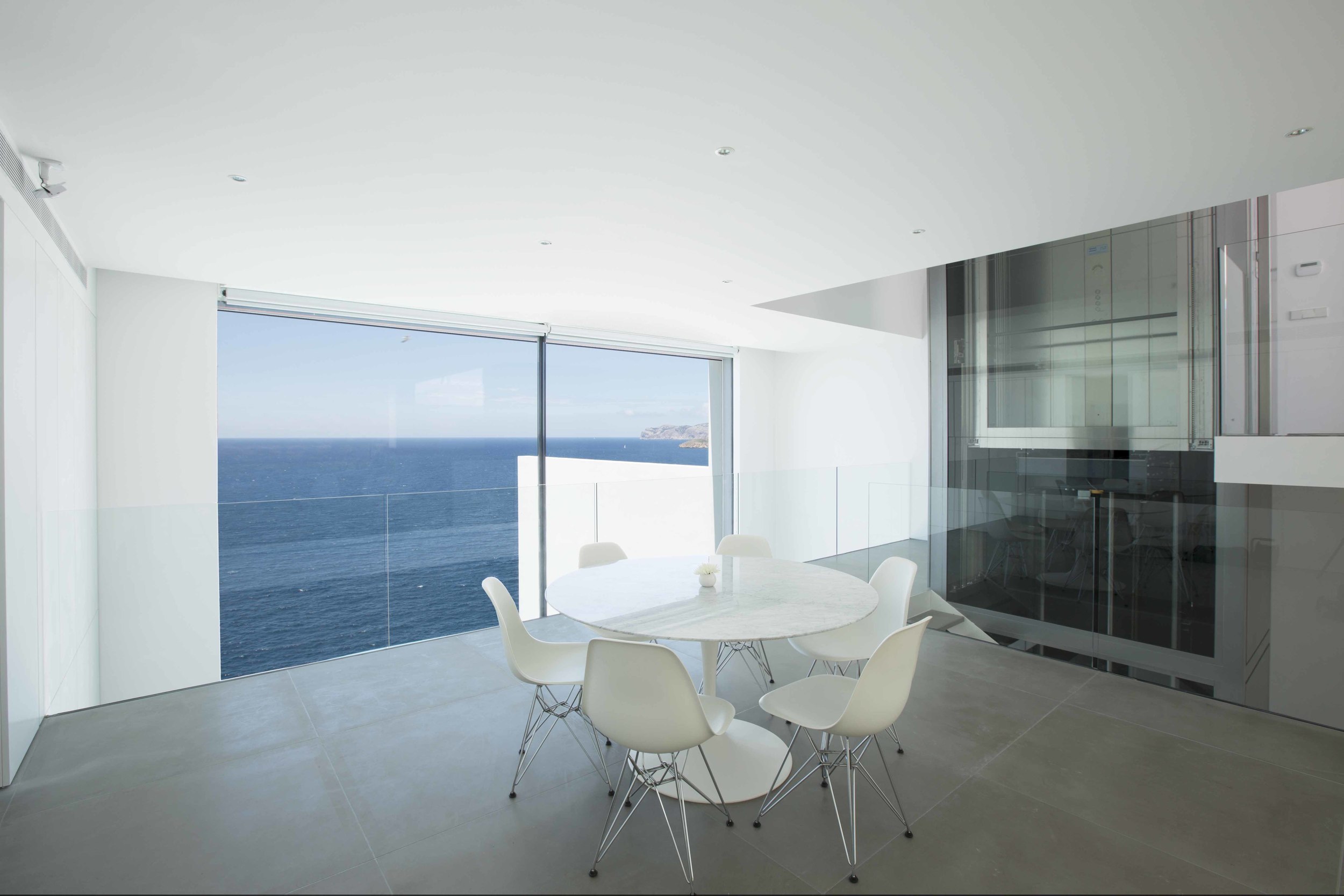 The mezzanine dining area is surrounded by a transparent glass balustrade with the glass lift structure to the right.
The first floor bedroom has a balcony and three layers of screening including folding aluminium louver doors and both external and internal roller blinds.
View from first floor bedroom at sunset .
Bedside table and reading lamp reflected in etched glass wall to bathroom.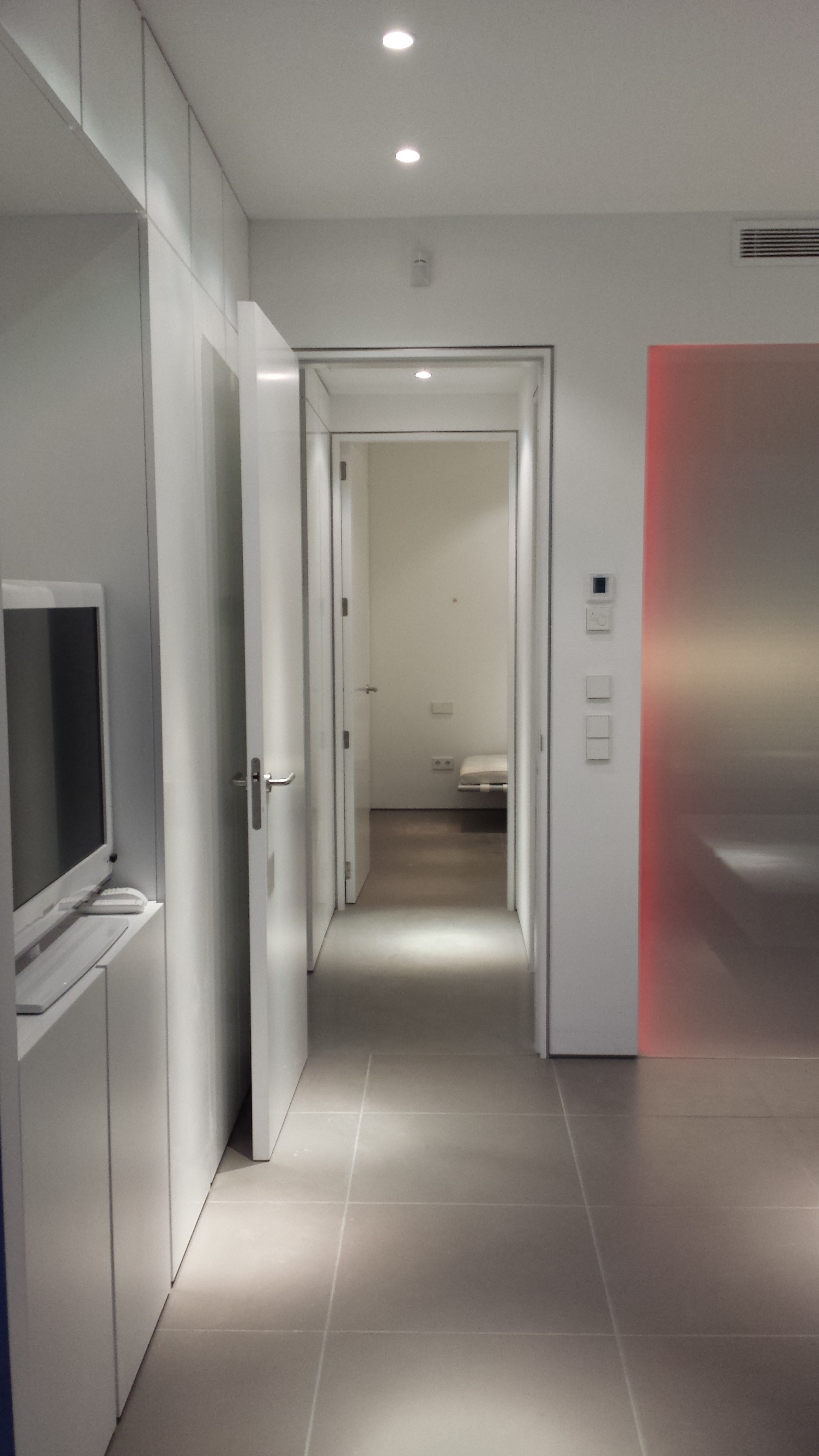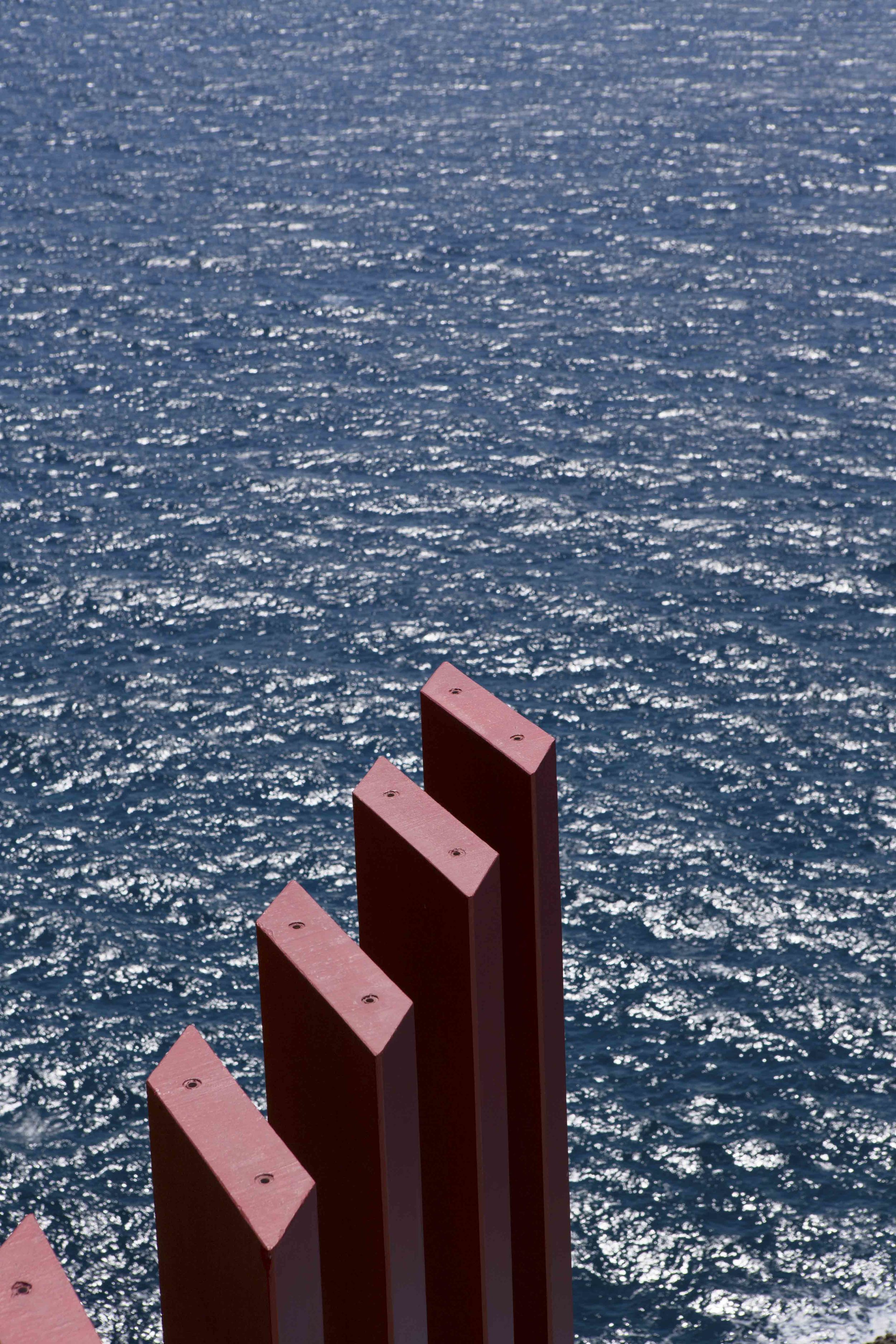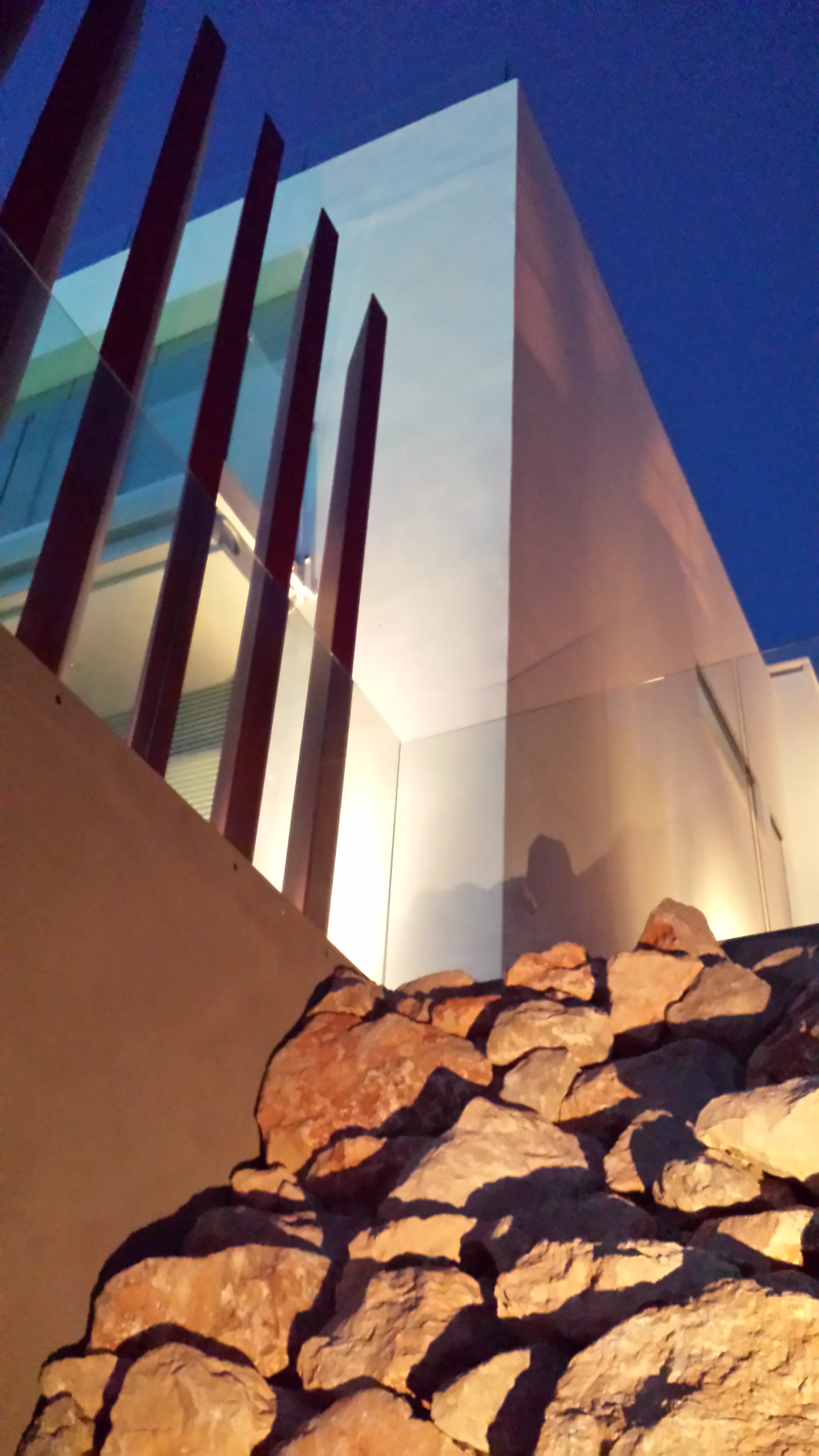 Red fins and rock landscaping at night on the south side of the house. .
Bathroom with translucent glass walls to the shower and bedroom.
Double height living room showing mezzanine floor level above.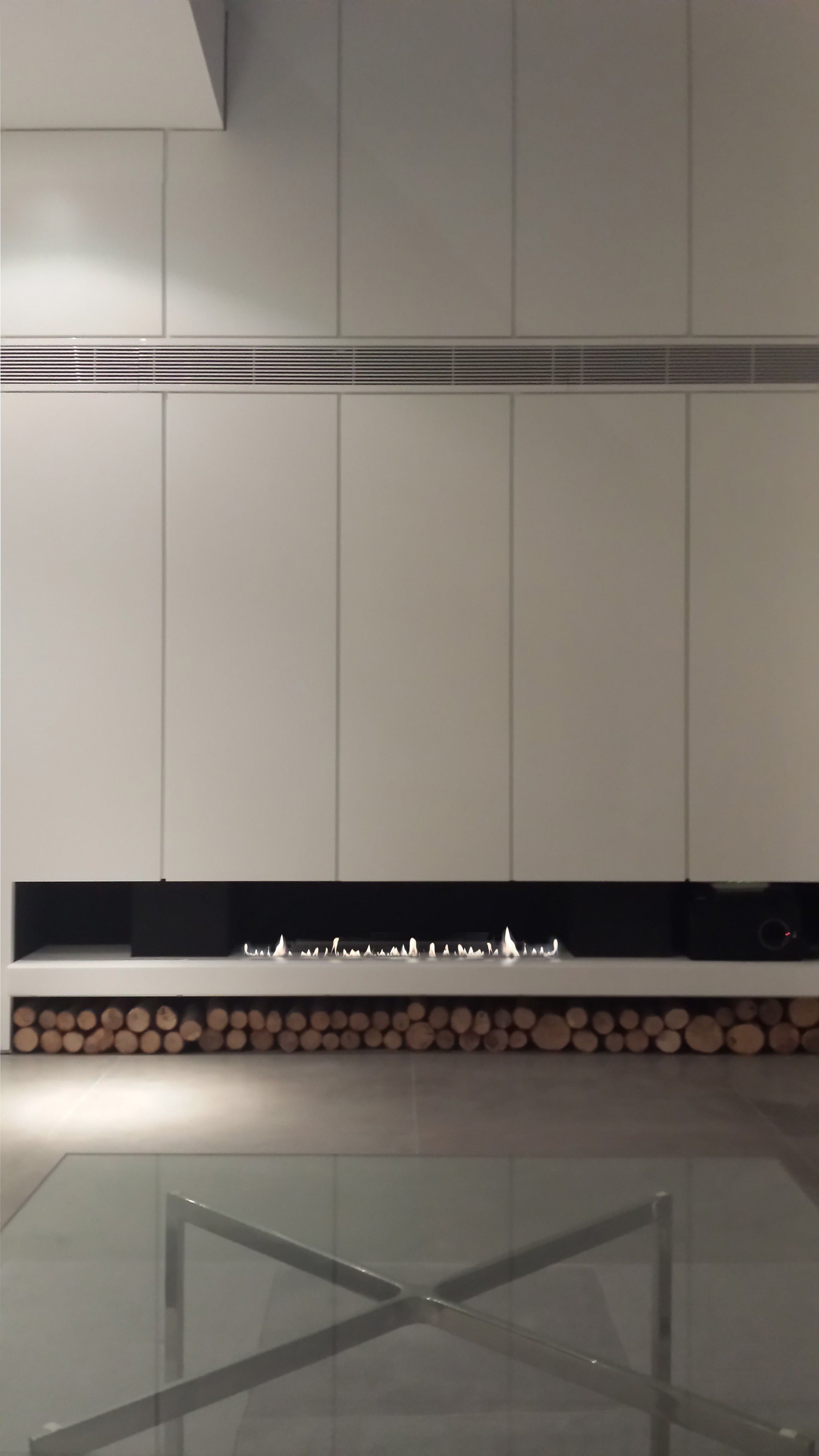 Fireplace in main living space with folding panels to TV open .
Rear wall to double height living room with stone to excavated cliff face with mirror to side walls and at floor level which enhances the sense of space.
Kitchen with Corian worktop and white electric hob.
Infinity pool reflections at dusk.
All black bathroom in basement with full width glass end wall looking into un excavated rock cavern.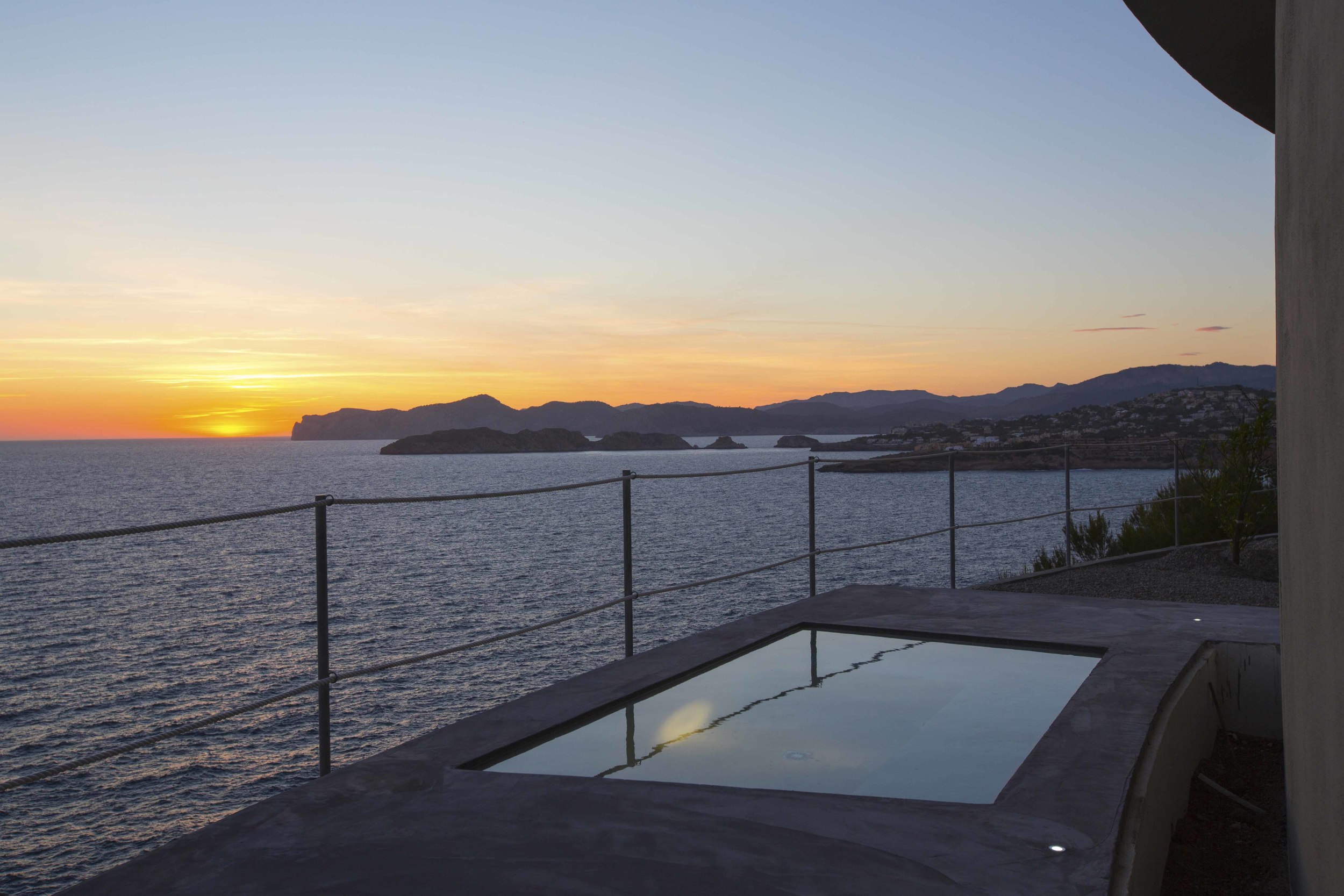 Lower terrace with jacuzzi at night .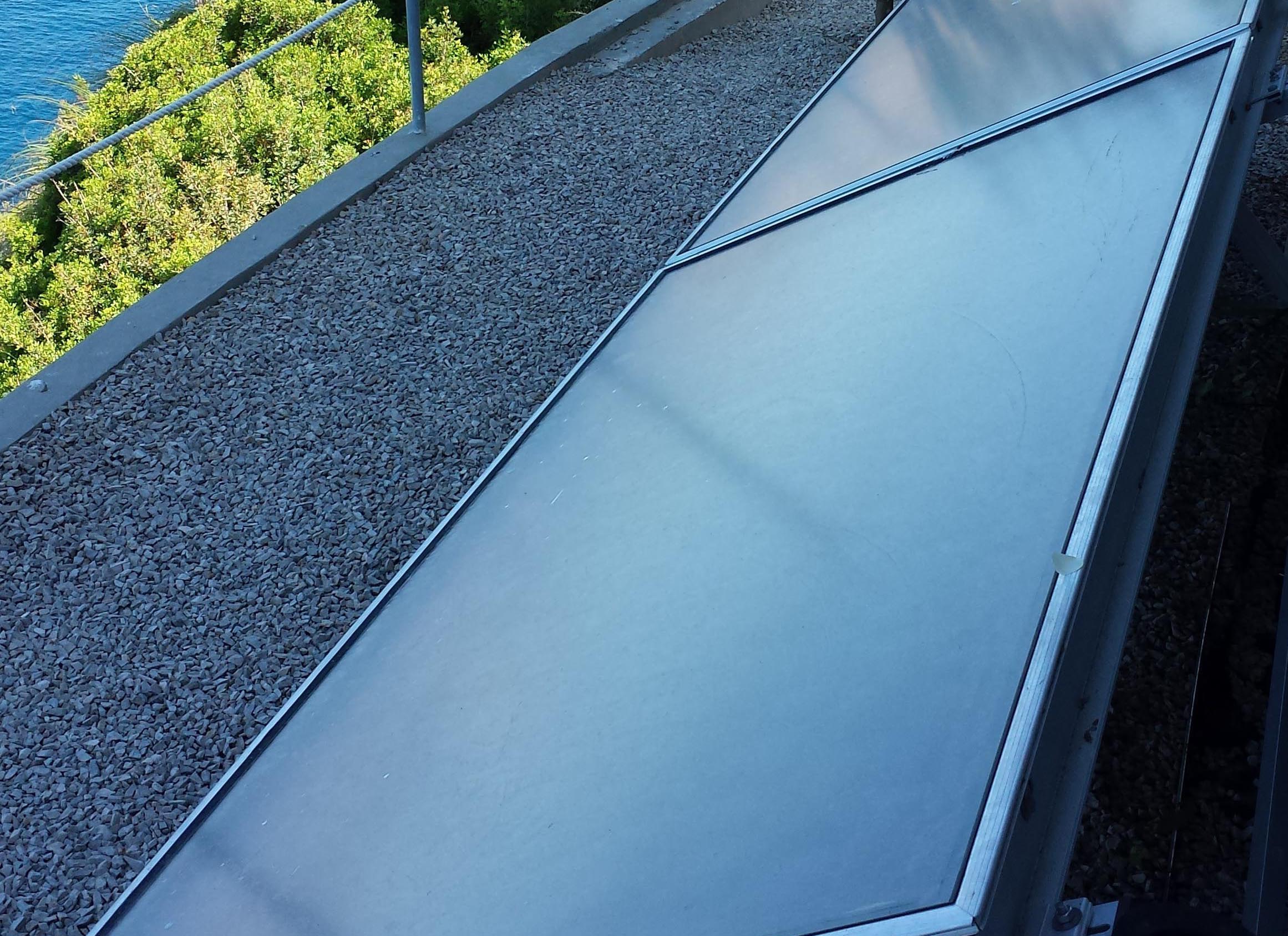 Solar panels at lower terrace level.
View from roof at sunset with clear and translucent glass balustrades.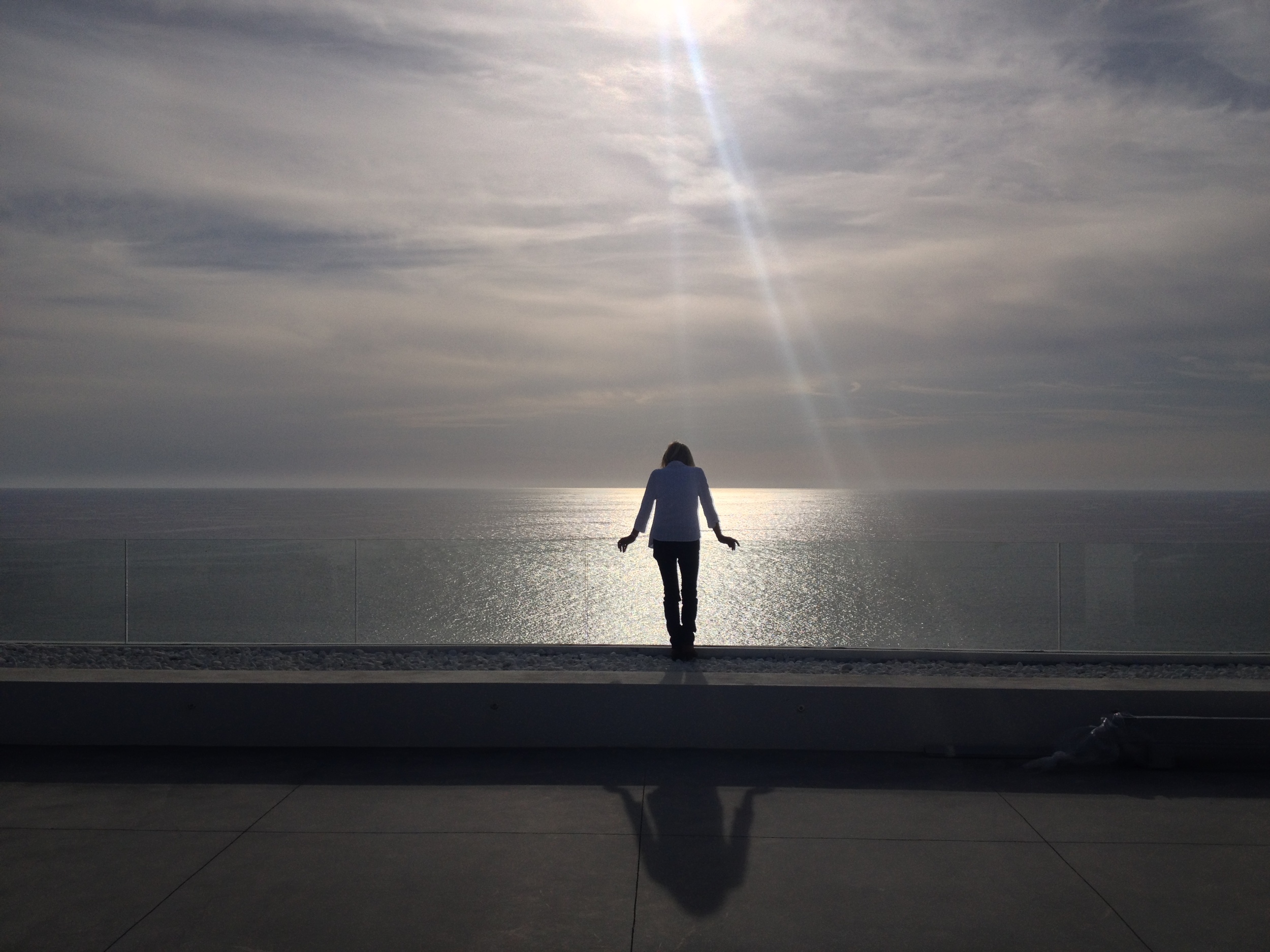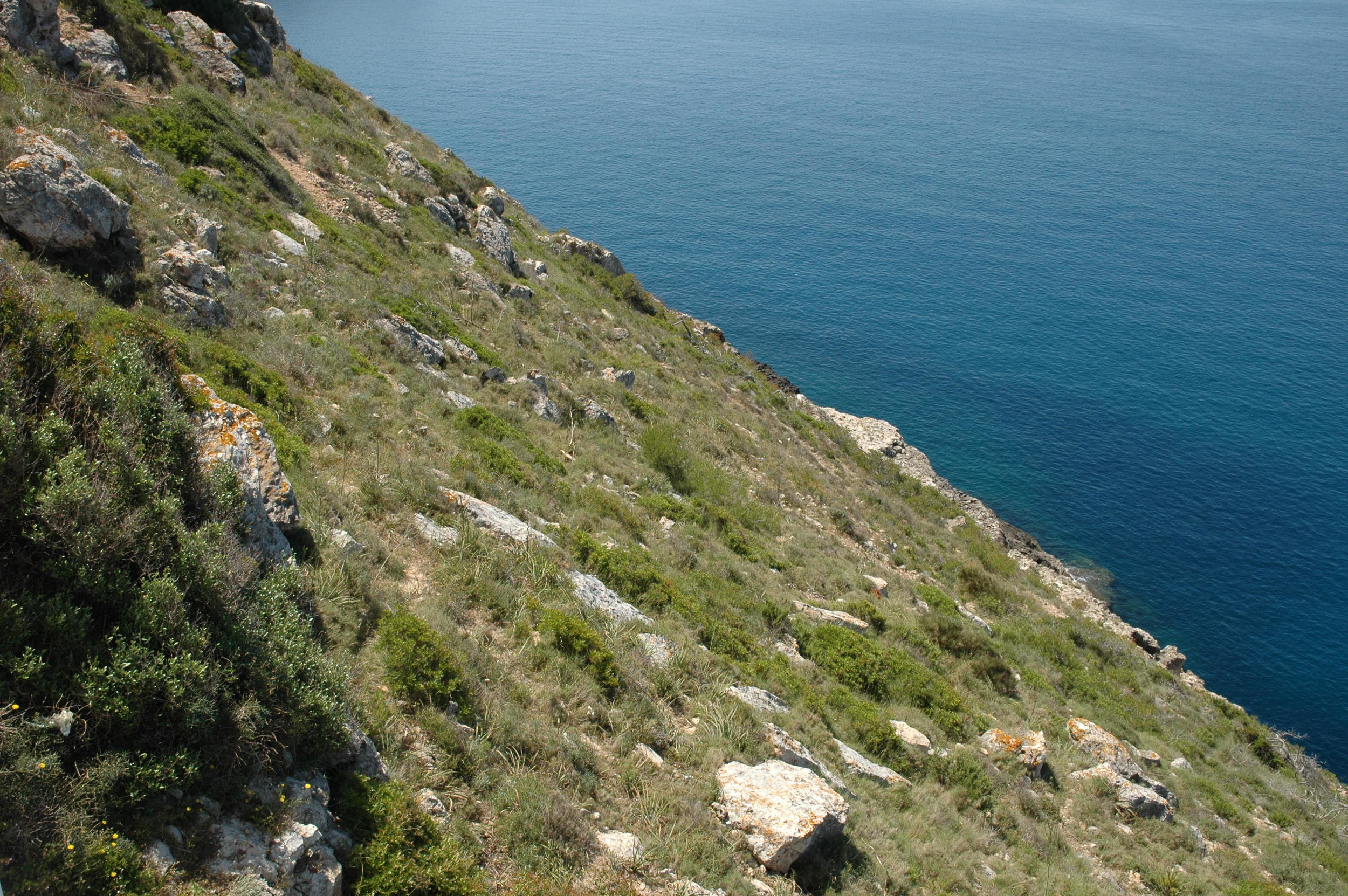 Original 45 degree sloping site for Skyhigh before excavation.
Skyhigh and Cielo from the sea below in Port Adriano , Mallorca.
Location of Skyhigh and Cielo in Port Adriano , Mallorca.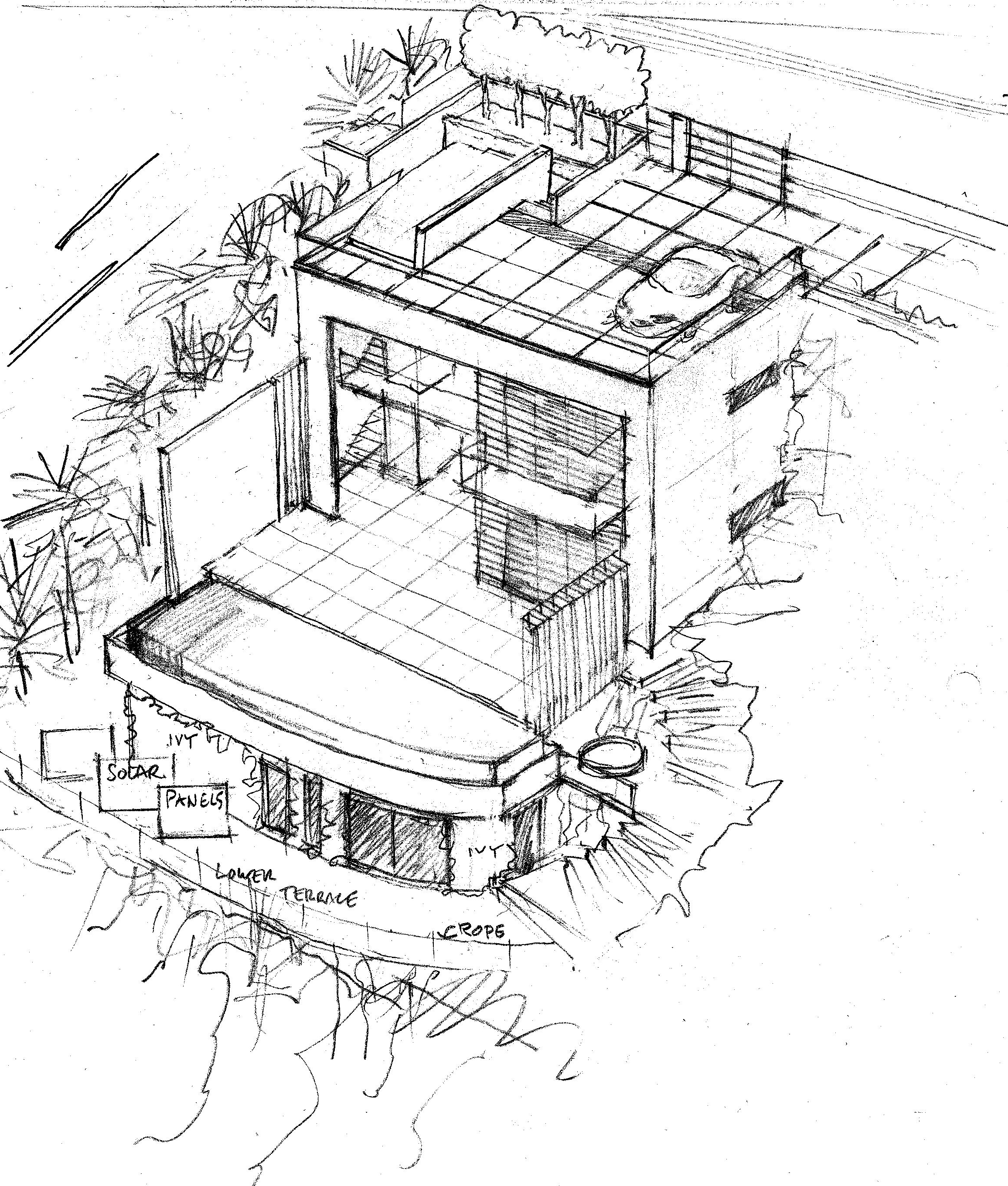 Axonometric pencil sketch of Skyhigh showing parking at roof level , double height living room , main terrace with infinity pool and a lower terrace with master bedroom and external stairs in the rock at the side.
Skyhigh